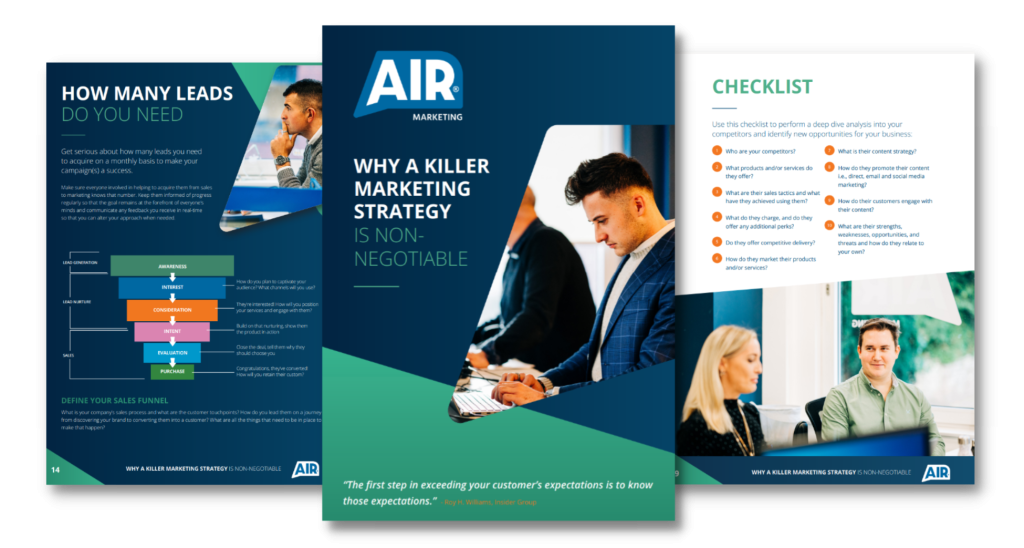 Your marketing strategy is like a roadmap to achieving your business goals. It's the foundation that supports your success; encompassing a plan that outlines the key steps and tactics required to effectively promote your products or services, connect with your target audience, and ultimately drive desired outcomes.
It needs to answer the following questions:
WHAT

? What are your business goals?
WHY

? Why should your people choose you over your competitors?
HOW

? How will you reach and engage with your audience?
Why a Killer Marketing Strategy is Non-Negotiable is a guide by Air Marketing, designed to provide you with 4 key lessons to help you create a killer marketing strategy, tailored to your business.
From your company's vision to who you target and how you position yourselves to them, a killer marketing strategy contains everything you need to succeed when it comes to communicating with your customers – both current and prospective!
These 4 lessons include…
Sizing up your competitors
Analysing your business
Getting brutal with your targets
Getting it done!
Get your FREE copy of the guide by completing the form below.