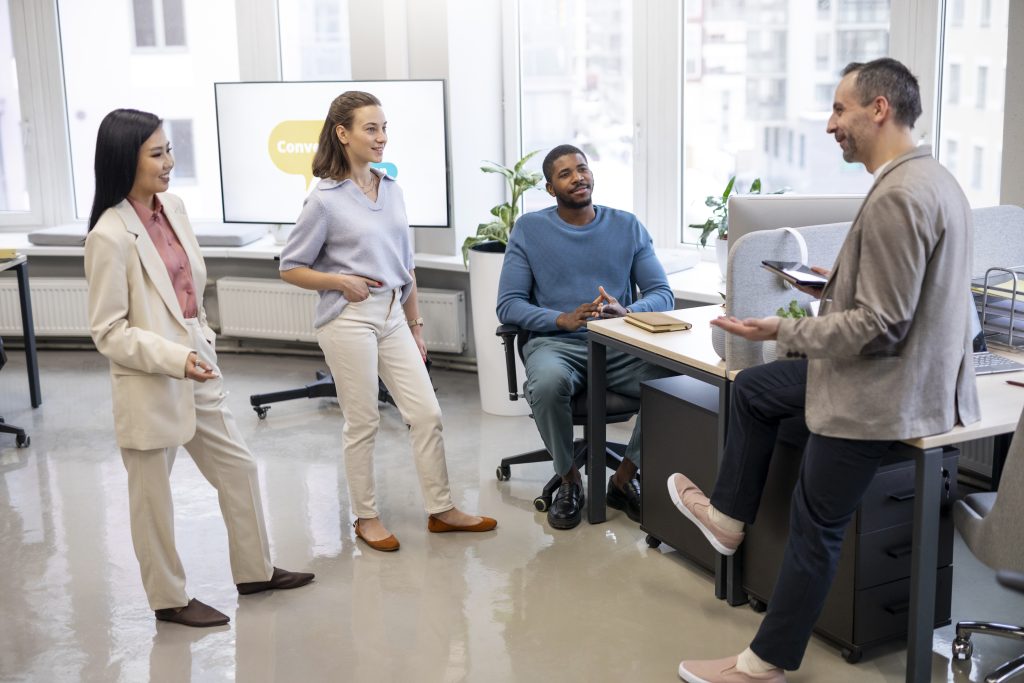 Motivation can be difficult to achieve in an office environment; hard work can often go unnoticed and the constant pressures of a competitive environment can begin to wear employees down. Research has shown, each day, 10% of employees are absent in call centres due to the lack of appreciation felt in the workplace. This research alone highlights the need, especially in my industry, for touchpoints which allow managers to show their appreciation to their staff, highlight individual achievements and deliver motivational objectives. In this blog post, I will share my experience and tips for achieving the above in one morning meeting.
So, how do you maximise your morning buzz meetings to encourage individuals and create high performing sales teams?
Strategise
43% of highly engaged employees receive feedback at least once a week, however, employee reviews should be happening more often and take less time.
There's nothing worse than a long-winded 'motivational' meeting that is set to demotivate from the offset. It's therefore important that you plan and prepare; effective buzz meetings should be concise and last no longer than 15 minutes, be armed with your objectives, focus on team wins and pinpoint your collective areas of learning.
Set the tone
Our physical behaviour influences our mental and emotional approach to the day.
Think of ways to get your team moving, have a walking meeting, introduce a quick-fire game or play uplifting music to get the blood pumping. Increased blood flow creates a positive mood, resulting in employees being more equipped to handle objections, take on new challenges and meet personal milestones.
Spotlight success
69% of employees say they would work harder if they felt their efforts were better recognised.
This is the perfect opportunity to feature the activity which you want to encourage. Celebrate your teams wins, even if they don't lead to a direct sale and avoid focusing on losses. Recognising individual and team achievements has become my common practise, as I know this makes the individuals in my team feel more confident and in turn, pushes them to set bigger targets.
Support and encourage
41% of companies that encourage colleagues to support one another experienced a significant increase in customer satisfaction.
If you want to create a great support network and boost team morale, encourage employees to praise fellow team members, this assures no one's hard work slips past management and brings the team closer together. If your team is feeling positive it will show in their client conversations, resulting in better relationship building, more sales and higher ROI for the company.
Strengthen from learnings
92% of employees agree that negative feedback, if delivered appropriately, is effective at improving performance.
Remember, the key for creating a great buzz meeting is positivity. Take negative feedback from the day before and turn it into takeaways and learnings for the team to overcome together. If a client isn't happy with an element of your team's performance, encourage your team to think of tactics that will better engage them and the people they are selling to.
State the day's focus
90% of business leaders believe that an engagement strategy could positively impact their business, yet only 25% of them have a strategy in place. It's therefore no surprise that only 40% of employees are well informed of their company's goals, strategy, and tactics.
It's time to hit the reset button and introduce a new action plan for the day. Ask each individual team member, "what do you want to achieve today?" I have found that when the whole team acknowledges personal targets, that individual immediately feels more accountability to meet their goal, success is more likely to be achieved and goals are more likely to align to the company's bigger picture.
At Air Marketing, we have experienced great success from our initiative to focus on our internal company culture. Achieving £18 for every £1 our clients invest, we are performing higher than the industry's £11 average. I personally believe this success is down to the time we take out of selling to promote appreciation, individual achievements and team objectives. The culture at Air is one that I haven't experienced anywhere else, our team's positive and supportive nature is infectious, thanks to our daily buzz meetings we continue to deliver fantastic results for the companies we support.
Opinion Piece by Annie Blundell – Account Director, Air Marketing